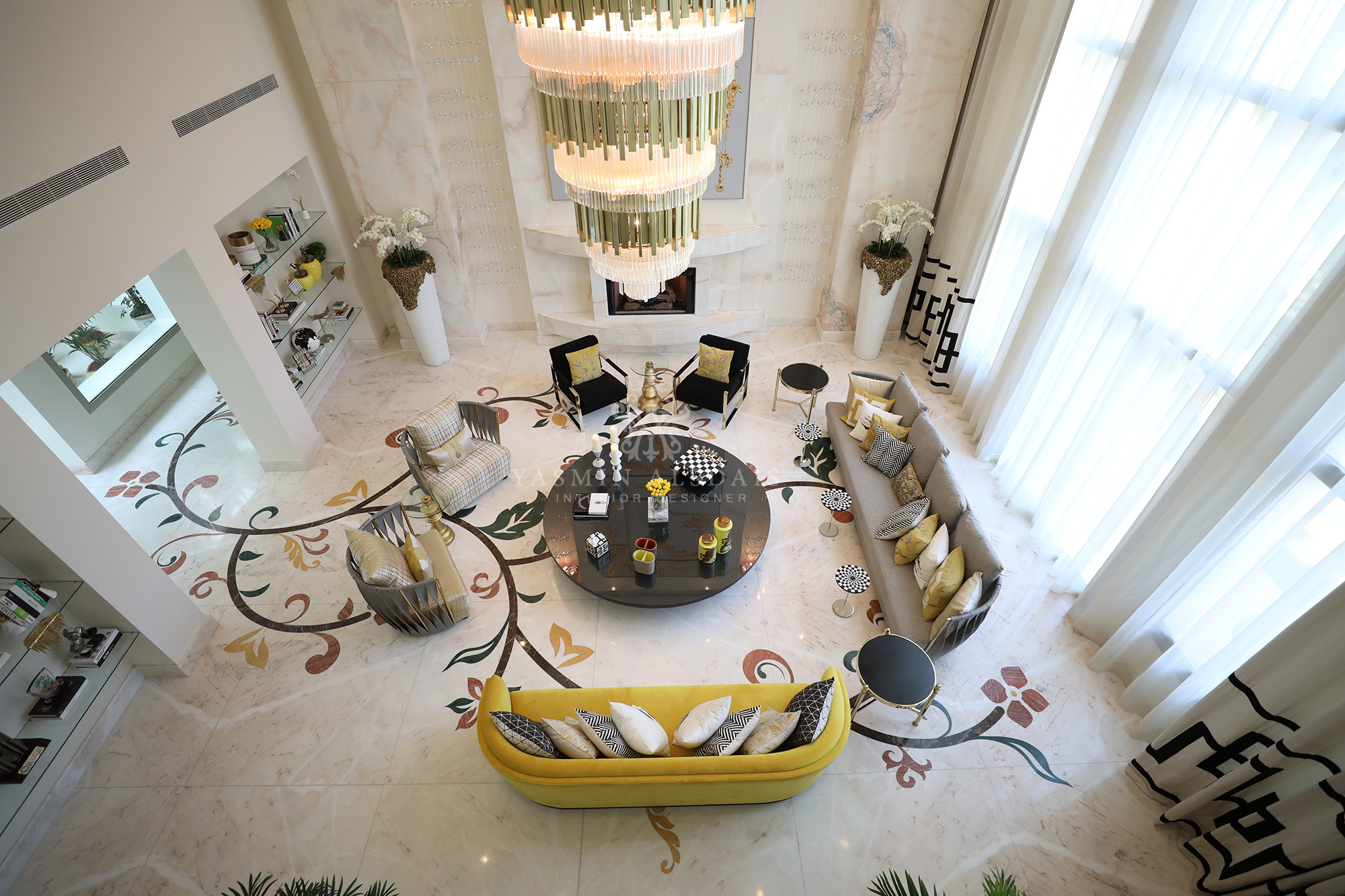 Luxury Contemporary and Art Deco
The lobby is one of the client's favorite spaces in the home. With a high ceiling (around 12 meters) it's an airy space. We made use of the high ceiling by placing a long chandelier that measures around 3.5 meters. All glass and steel, the stunning chandelier took a week to assemble. 
The big wall was designed in an 'open book' marble design, with a fireplace to add warmth and an art piece that reflects the gold and black color scheme of the room. The sofas and chairs are leather covered with have steel details, placed around a huge coffee table, perfect for informal gatherings with friends and family.
We closed the wall on one side to give the client a space to display their favorite memories and souvenirs from trips around the world. Flower stands adorn both sides of the big wall to bring a touch of nature indoors.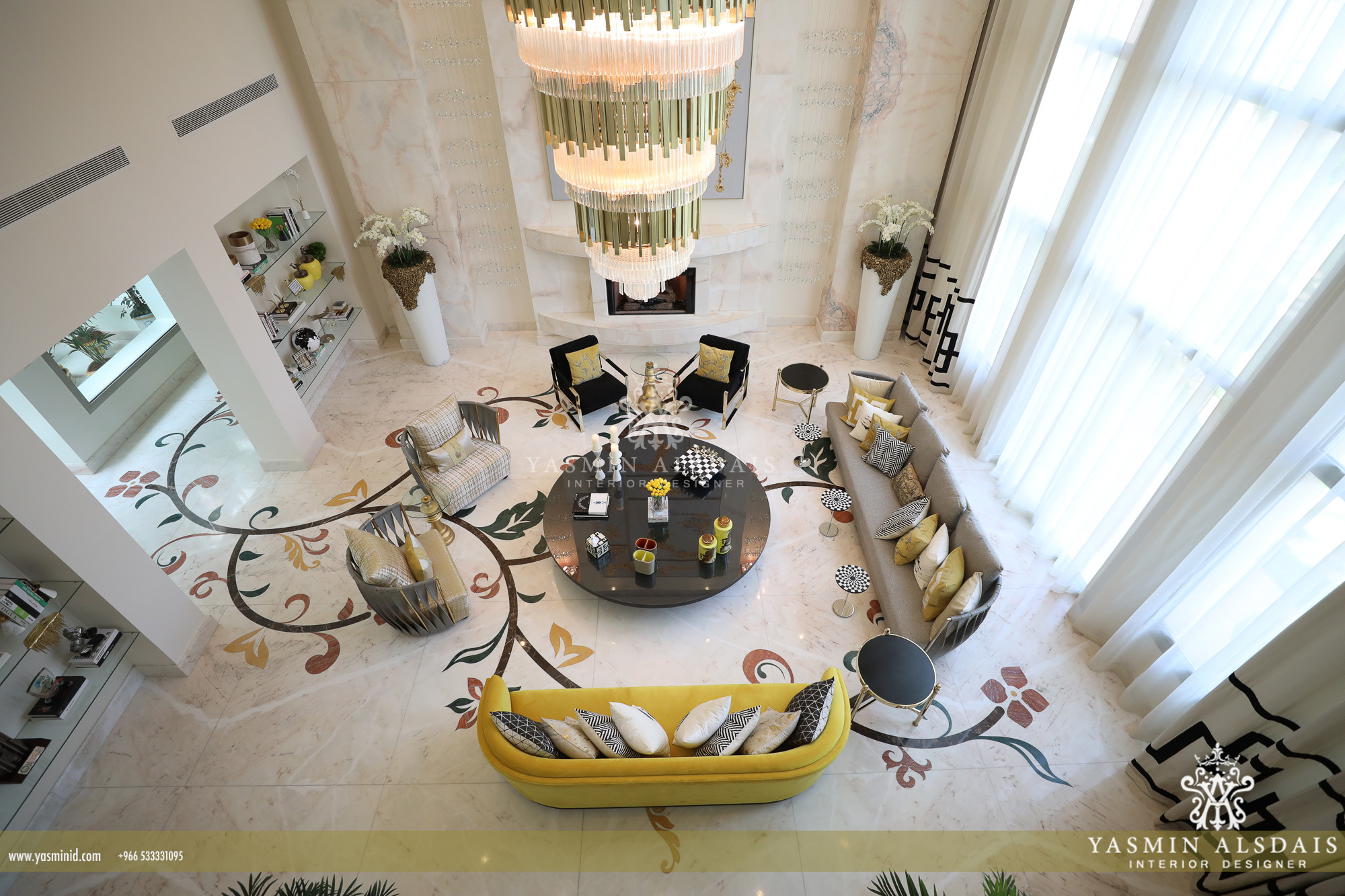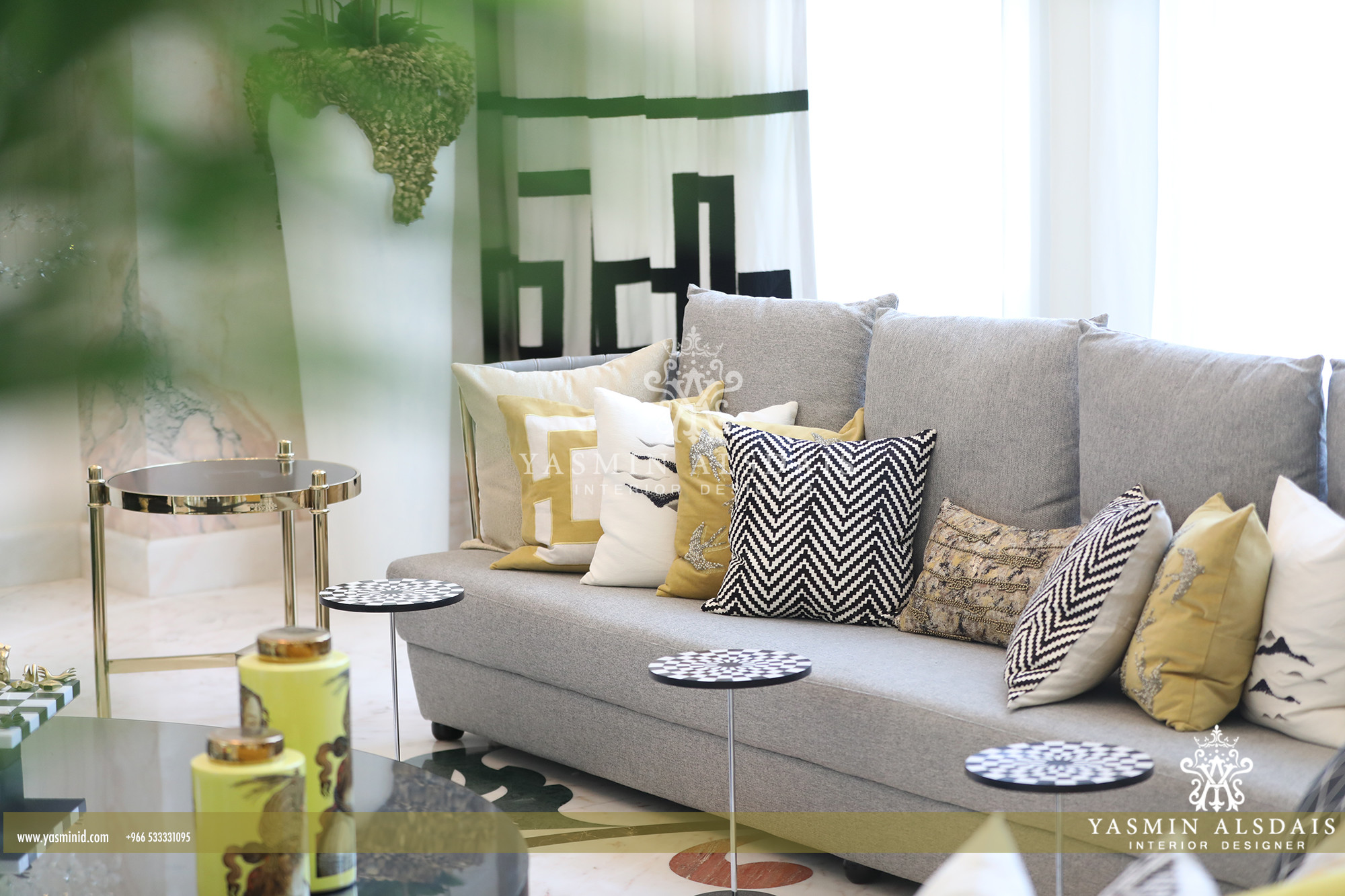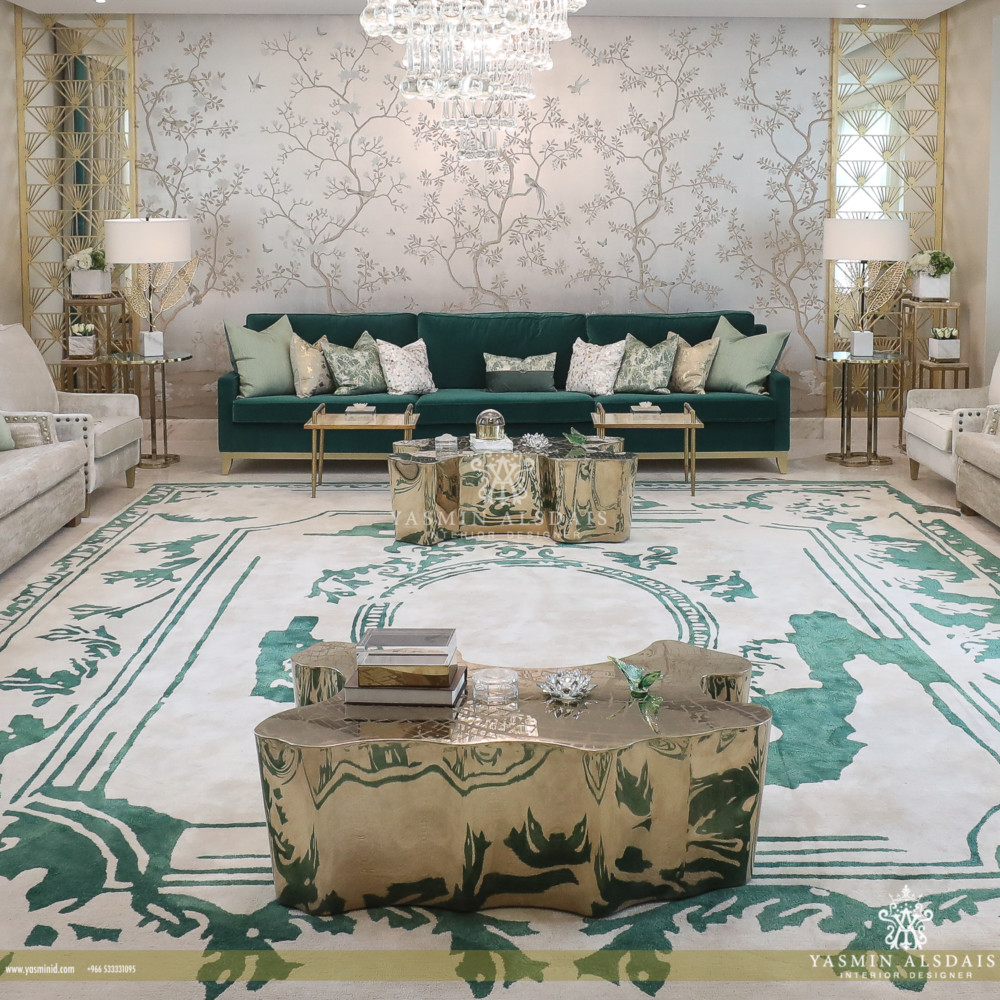 The color palette we chose for this majlis was Emerald green, champagne gold, and silver. Since the project was Art Deco-themed we used materials such as marble and steel for the furniture and accessories.
One of the key statement pieces is a stunning custom-made silver leaf wall covering from Formental. Champagne-colored and intricately designed, the shimmering wall draws all eyes to it and anchors the room.
The carpet is again custom made in Italy. Made of natural wool, it adds a vintage look to the space and complements the emerald green pallette.
Of course, we have to mention the gorgeous chandelier in the majlis. Made of scores of crystals, the piece ties together the whole contemporary luxury and art deco look.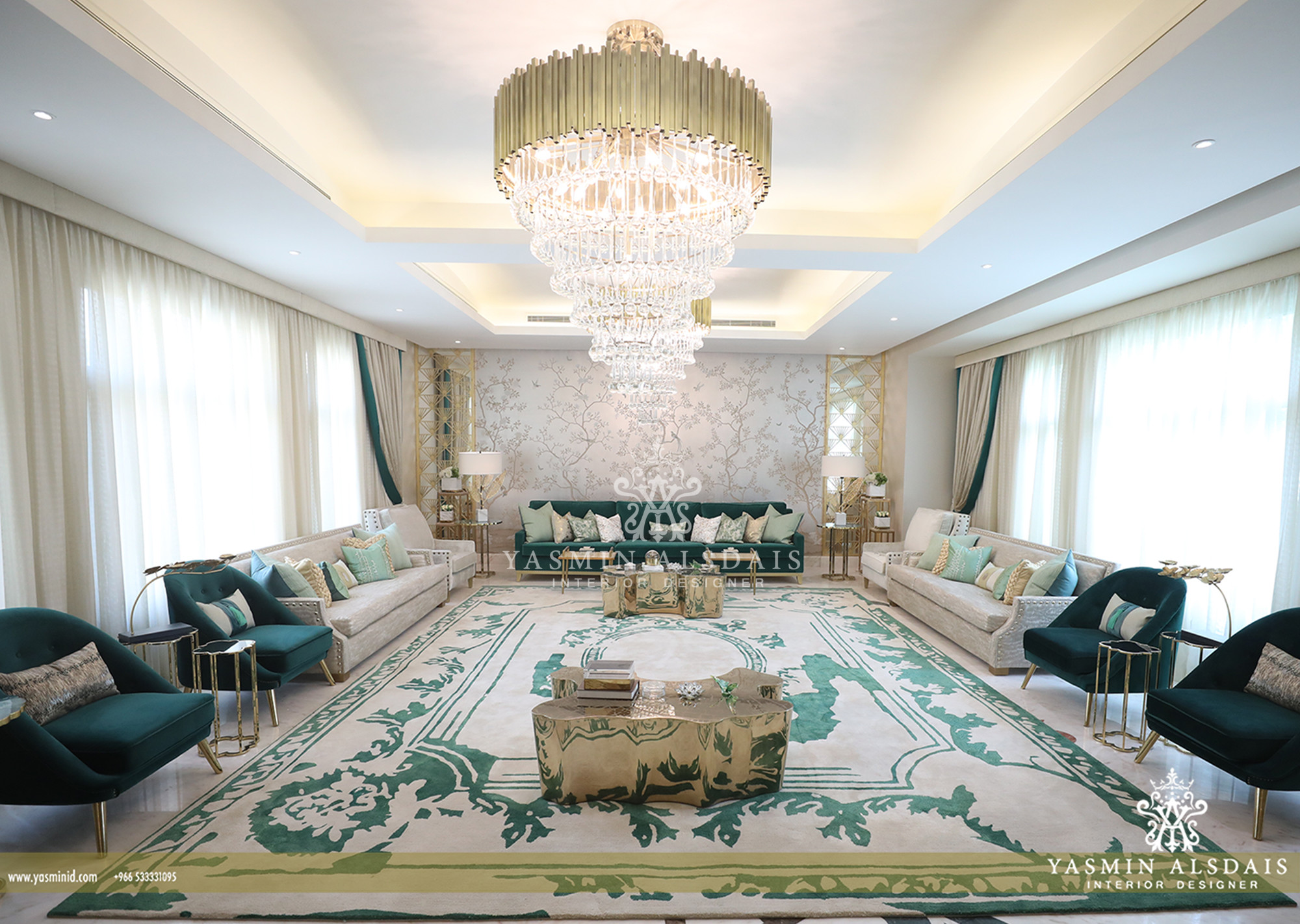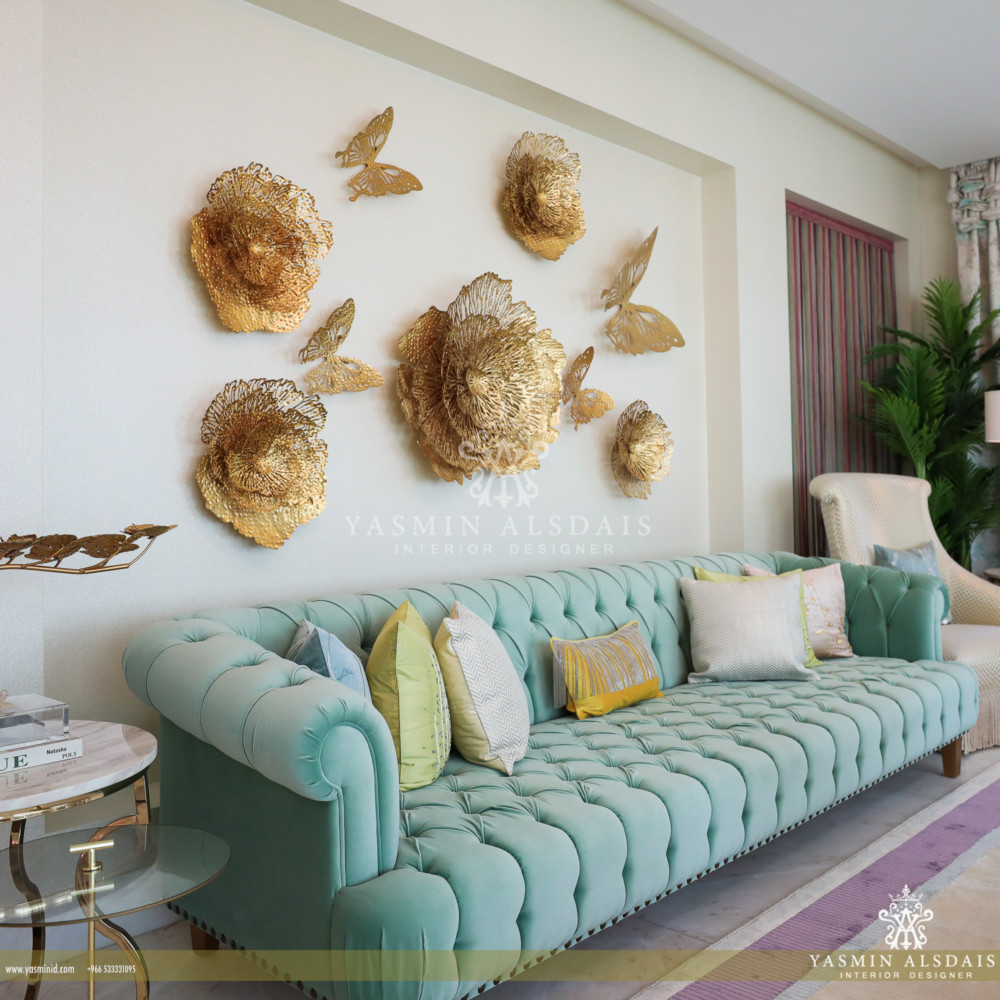 The most feminine part of the house is the women's majlis, where the ladies of the household entertain their guests. For such an elegant space, we followed a pastel color pallette to create a delicate look and feel.
The client is a fan of Missoni, so we chose a multicolored Missoni sofa as the focal point of the room, around which the rest of the space was designed. The other two sofas and the carpet in purple and blue complement the main sofa.
Something unique about this space is the ceiling with mirrors, which has the effect of making the space appear larger. A circular chandelier hanging from the ceiling echoes the coffee table in the centre of the room.
The wall décor again follows a feminine theme, framed by multicolor spaghetti curtains.
Every other detail in this room, from the ceramic accessories to the flowers, has been chosen with the intention of tying together the disparate elements into a coherent, beautiful space.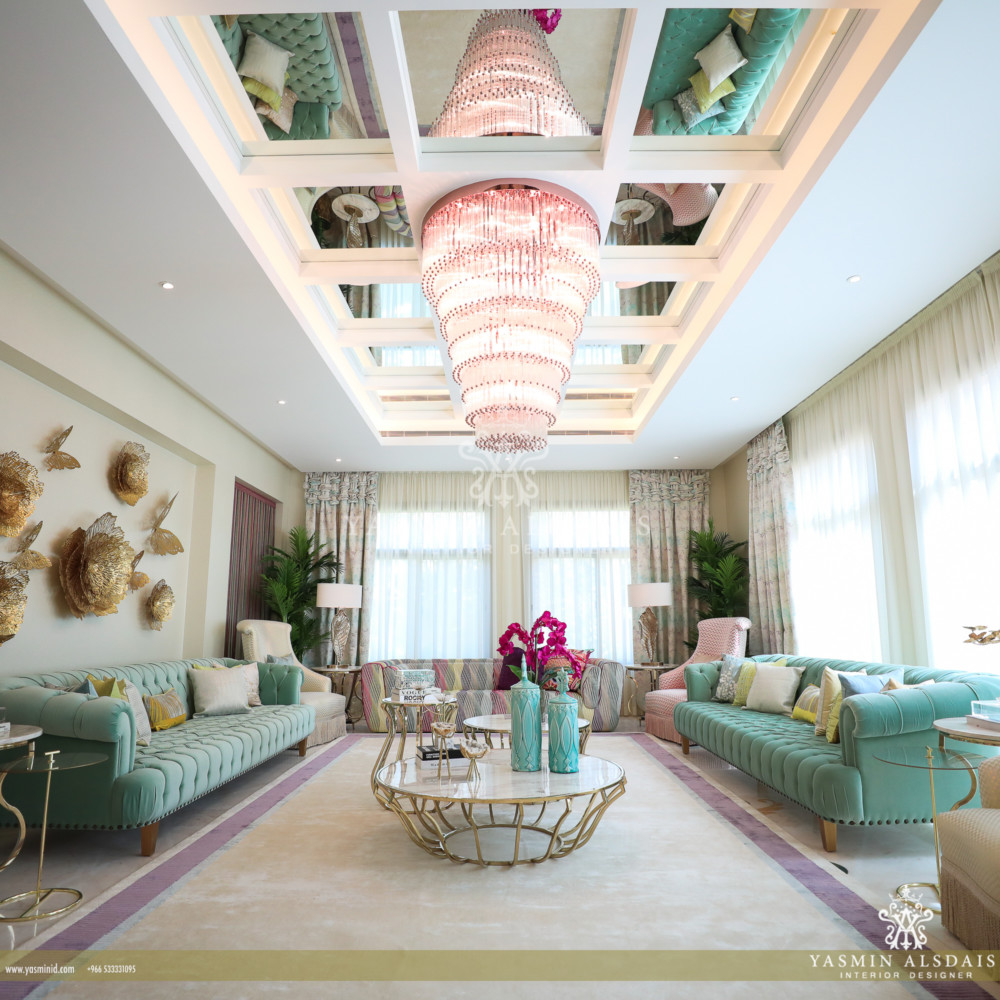 To commission a project like this please get in touch:
Email
Call